6th Annual EUSAIR Forum
Portorož, Slovenia | 11-12 May 2021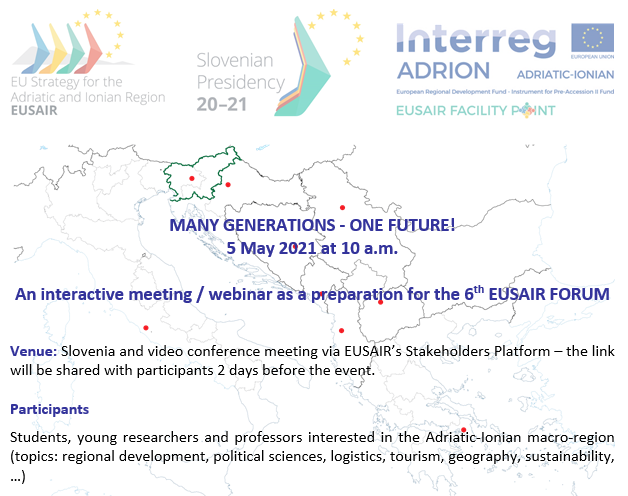 The Adriatic and Ionian Region is a home to more than 70 million inhabitants.
There are many generations and only one future in front of us, let's unite our forces and start an inter-generational exchange to learn from each other's experiences, expectations and views to pave the way towards the future of EUSAIR with fresh ideas!
EUSAIR Facility Point Lead Partner invites interested students, young researchers and their mentors/professors to the webinar to learn about the macro-regional strategy and related cooperation.  We will try to introduce to participants this interesting process and answer WHY it is important and unique, WHO are the "players", WHAT are the priorities and how could or should countries address them.
 This webinar will prepare you for a better, more constructive participation at the 6th EUSAIR Forum, to make your ideas be heard and incorporated in our future plans for the region. But the cooperation shall not end with the Forum. It is ment to be just a trigger to stimulate students for further interest in the macro-regional cooperation process and to understand various issues of managing regional resources that extend into several countries.
We hope for your long-term cooperation in helping us build your future, the way you want it to be!
Snapshots on just 2 of our previous events to gain some taste: