6th Annual EUSAIR Forum
Izola, Slovenia | 11-12 May 2021
To raise the awareness of coastal users as well as municipal and state authorities about responsible management of the sensitive coastal and marine environment the signs "Keep the sea clean" were restored as a tangible legacy of the Slovene Presidency of EUSAIR.
Read the whole story behind the signs in the Final Report of Slovene Presidency of EUSAIR (p.39).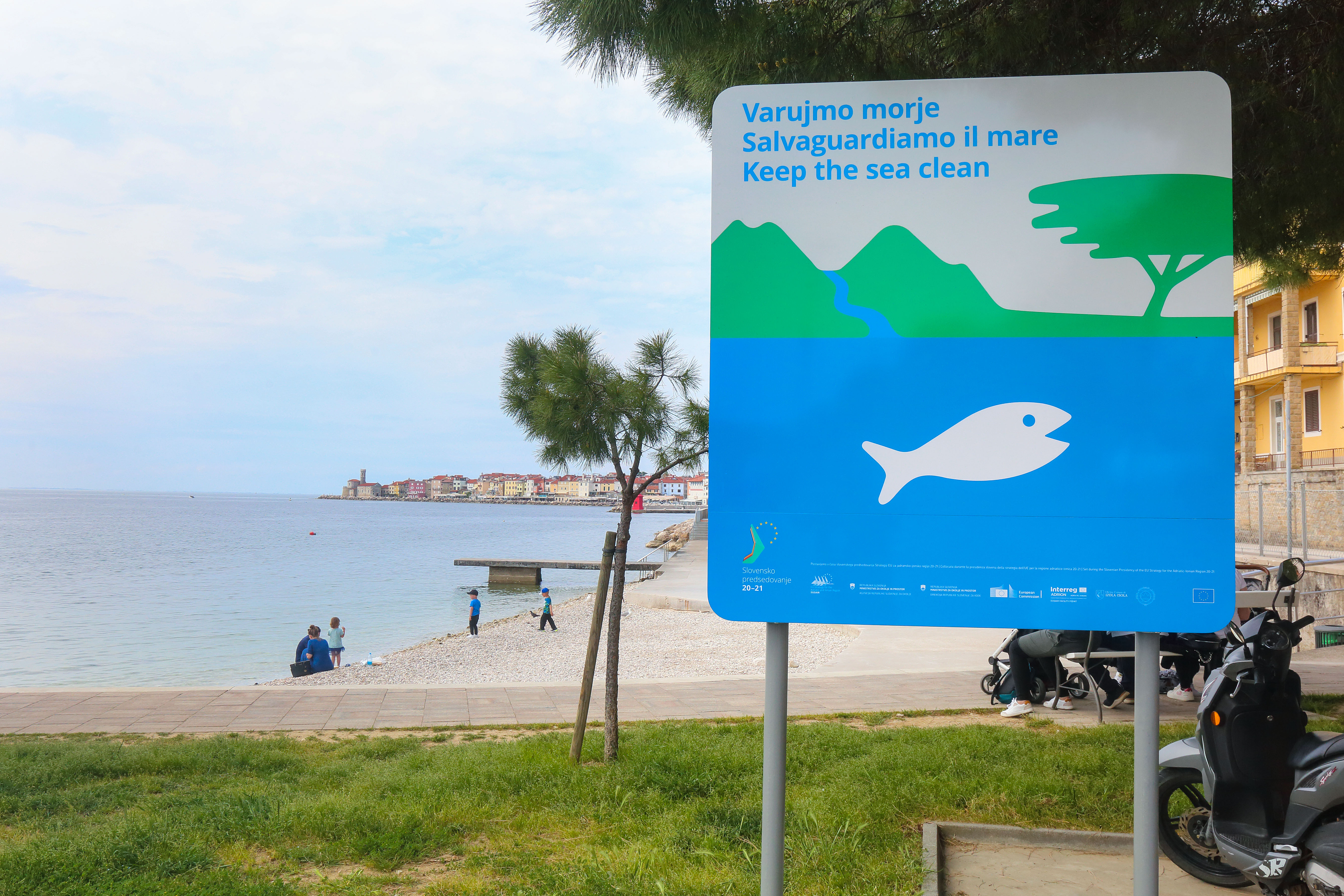 To increase awareness of the future devastating effects of rising sea and water levels, primary school pupils from Koper and Piran have launched a campaign to record the highest sea levels during the flood season, under the mentorship of geography teachers and in cooperation with the Slovenian Environmental Agency of the Republic of Slovenia (ARSO). As continuation of their work, within the 6th EUSAIR Forum an Installation of a "Keep the sea clean" sign is foreseen.

It all started with the awareness raising programme called "Climate change education for climate change adaptation" also marked an international conference of teachers "Climate change" in Štanjel, which was carried out by the Slovenian Geography Teachers' Association in partnership with the Ministry of the Environment and Spatial Planning.
It was soon followed by a side event of the traditional Mediterranean Coast and Macro-regional Strategies Week 2020 - Youth, water and EUSAIR, organized by the ARSO in partnership with the local community. The purpose of the event was to showcase the impact of sea and water on selected sites.
Residents of coastal towns are namely frequently faced with adverse impact of dynamics of sea and water, usually in the form of flooding of coastal areas. By placing high water marks that show the highest levels reached by the sea during floods, young people from Koper and Piran wished to draw attention to likely future adverse effects of sea and water if communities do not join forces to act in a preventive and active manner and build flood resilience.

The described work will continue through the 3rd International Conference on 23-24 April 2021 and be a side event of the 6th EUSAIR Forum -  Installation of a "Keep the sea clean" sign.
Will you support this great youth initiative to improve our common future?