8th Annual EUSAIR Forum
Sarajevo, Bosnia and Herzegovina | 23-25 May 2023
YOUNG PEOPLE'S OUTSTANDING ENTREPRENEURIAL IDEAS FOR A BETTER ADRIATIC-IONIAN MACRO -REGION
The competition POPRI EUSAIR YOUTH took place on 24 and 25 May in Sarajevo. Students from all countries of the Adriatic-Ionian macro-region competed for the third year in a row to win with their innovative ideas in the form of business models. They were judged by a prestigious international entrepreneurship jury. The event took place within the framework of the EUSAIR Forum, the largest event for high-level representatives of the Adriatic-Ionian countries, which this year is led by Bosnia and Herzegovina. The organiser of the EUSAIR POPRI youth competition is Primorska Technology Park (PTP) in cooperation with Inovacioni Centar Banja Luka (ICBL) .
Popri is a competition that has been promoting entrepreneurship among young people since 2004. The initiative was launched in Nova Gorica, expanded to the whole of Slovenia and internationalised in 2021. It is a model for the development of knowledge and the active participation of young people in shaping their own future. To this end, Primorska Technology Park has joined forces with partners from the Adriatic-Ionian region who want to support and encourage young people in the long term. The partners are Auleda Vlore from Albania, Inovacioni Centar Banja Luka from Bosnia and Herzegovina, Zagreb Innovation Centre ZICER from Croatia, Studentski Biznis Centar Univerziteta Donja Gorica from Montenegro, Centre for Knowledge Management from Northern Macedonia, Business Incubator Novi Sad from Serbia, Step C Science and Technology Park of Crete from Greece and San Marino Innovation from San Marino. In Sarajevo, the POPRI International EUSAIR Youth Competition brought together the best teams of young people, selected from a large number of teams from each of the participating countries, to present their entrepreneurial ideas. This year, around 300 teams took part.
POPRI International EUSAIR youth is a process of learning about entrepreneurship and business initiative that takes place over several months before the actual competition. During this time, teams develop their business idea into a business model in written form and present it orally in an entrepreneurial pitch at the competition, which takes place in front of a panel of experts. The jury was composed of prominent female entrepreneurs and international experts from Slovenia, Croatia and Bosnia and Herzegovina, including Ana Vlahov, Urša Žorž Požrl, Maja Lukić Grabovac, Melisa Hujić, Adela Ramić, Aida Kosović.
The youth project EUSAIR POPRI is made possible by the European Commission, the EUSAIR Presidency, the Ministry of Foreign and European Affairs of the Republic of Slovenia, the Ministry of Cohesion and Regional Development of the Republic of Slovenia, the Facility Point project. The event is sponsored by the European Capital of Culture 2025 Nova Gorica - Gorizia and SID Bank.
1st PLACE – HIGH SCHOOL STUDENT team: Limenko, Serbia
Kaja Gavrilović, Jana Simić, Rastko Petrović, Tatjana Zivadinović
Mentors: Ana Ivic Veljković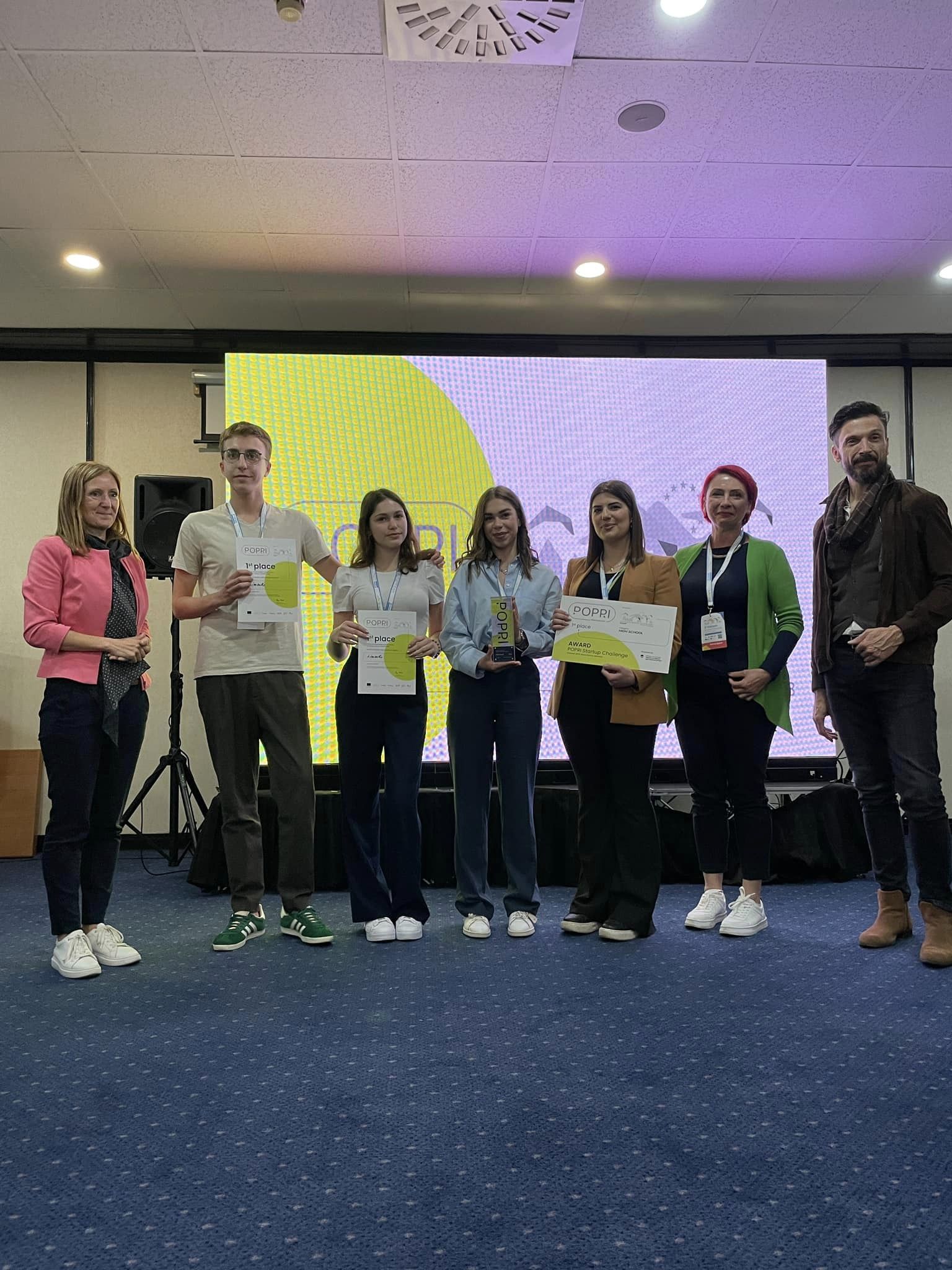 1st PLACE – UNIVERSITY STUDENT team: VeYo, Serbia
Tamara Živanović, Duška Rakin, Sara Živanović, Milica Milutinović, Aleksa Simić
Mentors: Marica Rakin, Maja Bulatović
2nd PLACE – HIGH SCHOOL STUDENT team: HIT HOT App, Slovenia
Taj Ražem, Sajra Makić, An Semolič
Mentors: Lucija Filipčič Križaj, Patricija Kastelic Volf
2nd PLACE – UNIVERSITY STUDENT team: Rabbit Sausages and Roasts, Slovenia
Tilen Volkar, Gašper Pršina, Nejc Hudoklin, Jernej Gačnik
Mentors: Andreja Gril Novak, Ana Marjanović, Simon Jeraj
3rd PLACE – HIGH SCHOOL STUDENT team: MILAIO, Albania
Anamari Sulcaj, Kamila Abazi, Joana Dhiamandi
Mentors: Andi Andoni, Nikolla Pulla
3rd PLACE – UNIVERSITY STUDENT team: Citrus peel flour, North Macedonia
Monika Spasovska, Rabije Mahmudi
Mentor: Andrijana Bogdanovska
PRIZE FOR FIRST-LEAD TEAMS - POPRI Startup Challenge
The first place teams will participate in the POPRI Startup Challenge in Nova Gorica, Slovenia in October 2023.
The prize is made possible by the Ministry of Foreign and European Affairs of the Republic of Slovenia.
PRIZE FOR THE SECOND-PLACED TEAMS - GO! 2025 Prize without Borders
The second-placed teams will visit the European Capital of Culture 2025, Nova Gorica - Gorizia, in autumn 2023.
The prize is made possible by Nova Gorica Gorizia European Capital of Culture.
PRIZE FOR THIRD PLACED TEAMS – Individual market test
Third place teams will receive an individual market and product potential testing programme with a successful startup entrepreneur.
The prize is made possible by Primorska technology park
In addition to the competition, three other events took place, including a roundtable organised by RTV Slovenia and the Embassy of the Republic of Slovenia in Sarajevo. In addition, all event participants had the opportunity to interact with successful entrepreneurs and a gala award ceremony was organised to announce the results and award the prize. The events were moderated and hosted by Jamila Milović-Halilović. Guests Erna Šošević, an entrepreneur, and Dragan Vlačić, a manager and expert in software and IT, shared their experiences with the young people.