Newsletter Slovenian Presidency of EUSAIR 20–21 / 6th EUSAIR Forum 2021 edition
A proof that the 6th EUSAIR Forum is going to be really rich in content and attended by individuals you wouldn't expect to be listening to!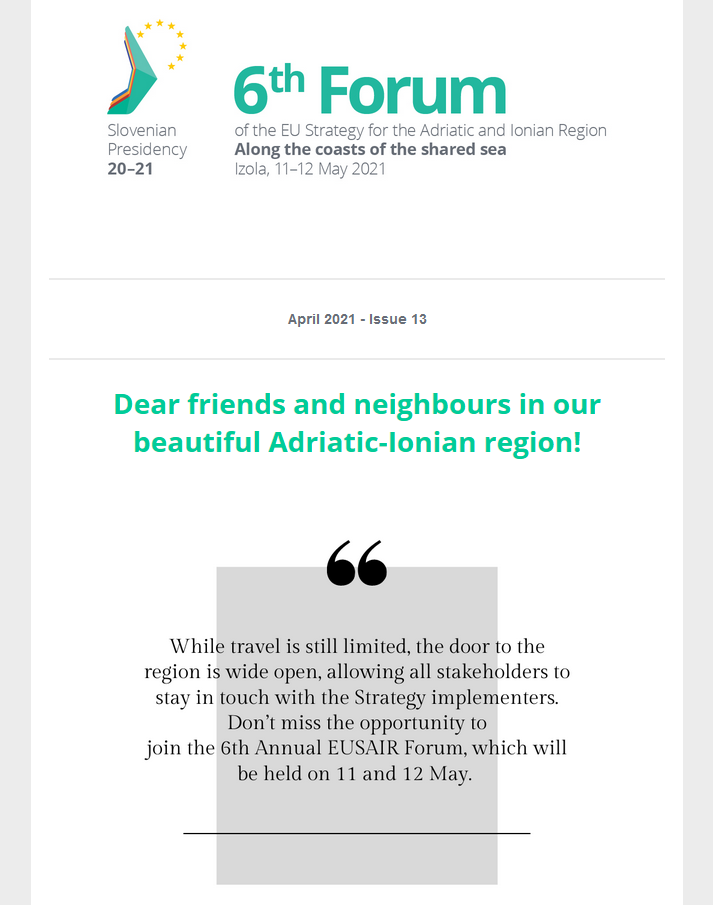 6th EUSAIR Forum presents
Inspirational Dialogue: Dr. Lučka Kajfež Bogataj  and Boštjan Videmšek
A Nobel laureate and a former war correspondent; a world-renowned climatologist and an ambassador of the European Climate Pact
On the first day of the 6th Forum, Dr. Lučka Kajfež Bogataj and Boštjan Videmšek will confront their views on how the coast of the Adriatic and Ionian seas appears in the face of the climate crisis – and what else we can do for a better life on the shores of the shared sea.
Speaking of our future, who better to address to bring about change if not youth?
And good news, they already started! EUSAIR Youth will continue to increase awareness of the future devastating effects of rising sea and water levels.
To include them even more, yet another two events are planned:
- Many Generations – One Future
- POPRI Youth Business Model Competition
While on the subject of the business sector, can you imagine a port being ecological oriented and connected to olive oil?
If not, you have to read an interesting interview with Dimitrij Zadel, President of the Management Board of Luka Koper: »A port is of strategic importance«.
And this is not even the only inspirational business idea, we share with you this time, because..."there is a lovely Vida that stands by the sea"...
We have no doubt, that you also have some great ideas on how to improve the quality of life along the coasts of the shared sea, therefore please join the VIRTUAL B2B@EUSAIR FORUM 2021!
It goes without saying that we can't get on without sharing the latest news on the development of the embedding process. Another important step towards the crucial common goals of our region being brought to the light of day was done on 15 April 2021.
We believe this is already interesting enough, but to rest your ears in between, we have a special guest making the cultural part unforgettable! However we cannot serve all the information on the tray right away - you'll have to check it out for yourself and read our newsletter!
Welcome to the North Pole of the Mediterranean, let's sail together along the coasts of the Adriatic and Ionian sea!
The Slovenian Presidency is already looking forward to your rich interventions at the