SAVE THE DATE – Mediterranean Coast and Macro-regional Strategies Week 2021 brings new dimension!
The 6th edition of the Week will take place online, both in Slovenia AND North Macedonia in two time slots: 9-11 & 22-23 November 2021.
Traditionally, the event aims to raise awareness about the sea and its hinterland, the natural and economic potential it boasts, and outlines the risks facing the sea and its hinterlands as a result of natural phenomena and human activities. It brings together politicians, decision-makers, experts, civil society and interested public from all levels - local, regional, national and international.
This year's event objective is to further enhance and strengthen the collaboration between the EUSAIR countries, as well as to strengthen joint efforts of the EU and neighbourhood countries. To demonstrate common action, events will be hosted by both Slovenia and North Macedonia, the youngest EUSAIR participating country. The sixth Mediterranean Coast and Macro-Regional Strategies Week will be held online through a common EUSAIR Facility Point sharing platform. The event will strengthen the macro-regional cooperation in our common region, to underline that without cooperation, there are no appropriate solutions and no common future. The joint event will bring additional EUSAIR visibility both, in Slovenia and North Macedonia and to entire Adriatic-Ionian region.
Further information about the event will be available on the dedicated sub-webpage of EU Strategy for the Adriatic and Ionian Region (EUSAIR) in the coming weeks.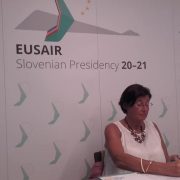 "Despite a very difficult situation due to Covid-19, more than 1.000 people from EUSBSR, EUSALP, EUSDR, EUSAIR exchanged their views, best practices, resources, knowledge, ideas and most importantly good will to talk and trust to each other! I would like to stress the unique interministerial cooperation with strong support of EUSAIR Facility Point. Together we proved that Europe IS strong and resilient, but only when it is green and smart!"