EU Industry Week 2021: Online Workshop organised by the Region of Western Greece
Online | 31 March 2021
In the framework of the European Industry Week 2021 the Region of Western Greece, CPMR BBSC Member and Cultural & Creative Regional Ecosystems (CCRE-S3) Leading Region, is co-organising with the Europe Direct Patra the online workshop "Entrepreneurship towards Industry 4.0", on Wednesday 31 March 2021 from 12:00 to 16:00 (Eastern European Summer Time - EEST).
The online workshop will consist of the following sessions:
Session 1: Extroversion of Greek Industry
Session 2: International Industry Trends for Industry 4.0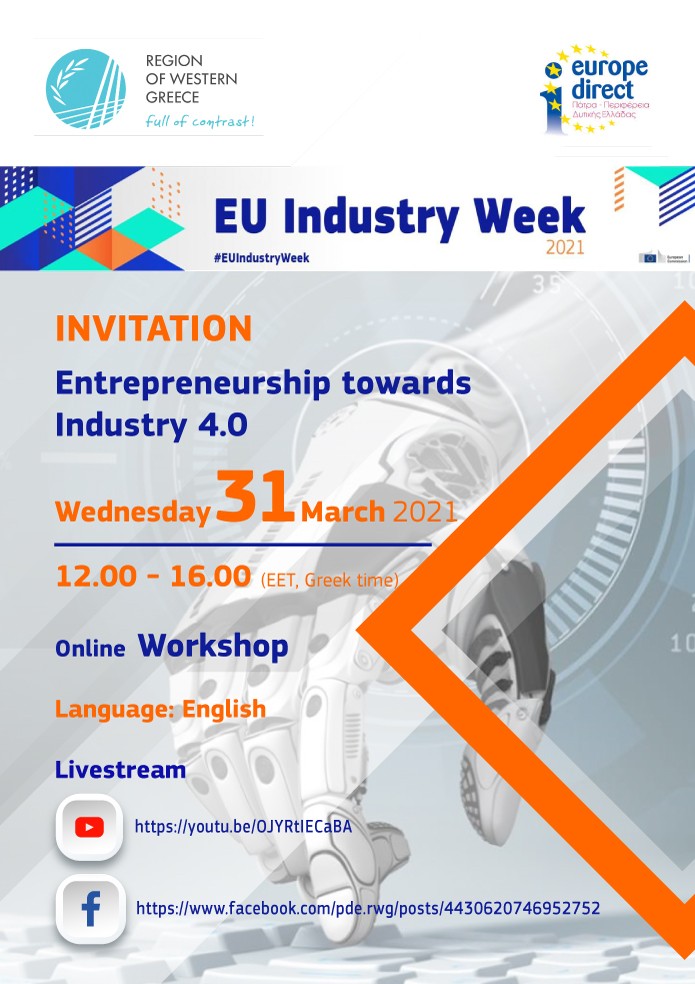 In recent years, the European Commission's Directorate-General for Internal Market, Industry, Entrepreneurship and SMEs (DG GROW) has been organising the EU Industry Week as an opportunity for interested members and citizens from all over Europe to start a dialogue exclusively on the future of European industry.
This year, the EU Industry Week will focus on accelerating green and digital transition, as well as the changing global competitive landscape in the post-covid era.
Through the specific online workshop which will be attended by organisations and representatives of industry, entrepreneurship, innovation, etc. questions such as the following will be discussed:
- How will we achieve the transition to Industry 4.0?
- What are the factors that led to Industry 4.0?
- What are the design principles, results and challenges?
- What is the role of Big Data, Analytics and micro and nano electronics?
- Need for synergies
- Actions and implementation proposals
- Jobs, growth and innovation
- Regional policies
- Digital innovation hubs etc.
Among the speakers will be Ms Ketevan BULISKERIA, Head of Batumi's Tech Park, Georgia's Innovation and Technology Agency (Ajara - Georgia); Mr Ionut MOCANU, General Manager of Tehnopol Galati Association (Galati - Romania); and Mr Dušan VASILJEVIĆ, National Alliance for Local Economic Development (NALED) Director for Entrepreneurship and Investments (Serbia) with a presentation focusing on the Western Balkans.
The event will be livestreamed through YouTube (English, Greek) and Facebook (English, Greek).  
The outcomes of this event will be used, in coordination with the Region of Western Greece and in cooperation with all BBSC Member Regions, for the implementation of our relevant priorities in the Adriatic-Ionian, Balkan, and Black Sea regions.