Selection of 6 project ideas within Facility Point Plus
Project Facility Point Plus provides support for the development of cross-sectoral macro-regional project ideas. Project management selected a committee for the selection of cross-sectoral macro-regional project ideas, which assessed the admissibility and relevance of the received project ideas in order to obtain technical support for the further development of the idea into a project concept or a concept that is financially acceptable by international financial institutions, i.e. bankable project.
The selected projects concern the following areas:
(1)   Management of tourism flows in protected areas;
(2)   Development of a technology cluster, incorporating blue growth technologies and the field of culture and the establishment of an international competence center;
(3)   Use of high quality research to strengthen dialogue and institutional capacity for effective implementation of marine spatial planning in support of inclusive and sustainable growth in the Adriatic-Ionian region;
(4)   Promoting sustainable tourism by introducing energy-efficient technologies in the buildings under monumental protection;
(5)   Designing the Adriatic-Ionian transport route for the development of sustainable tourism;
(6)   Establishment of the Adriatic-Ionian Technology Platform in the field of blue growth and transport.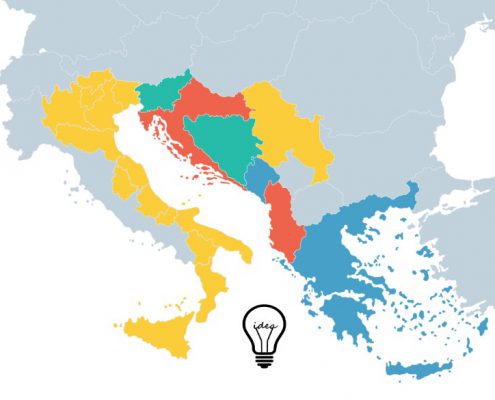 Cross-sectoral project ideas are of great macro-regional importance, as they will contribute to the achievement of individual objectives in different thematic areas, also called Pillars. The Pillars of the macro-regional Strategy of the Adriatic-Ionian region are:
(1)   Blue Growth;
(2)   Connecting the region (transport and energy network);
(3)   Environmental quality;
(4)   Sustainable tourism.
At the same time, the selected project ideas ensure a balanced geographical coverage of the countries involved in the macro-regional strategy, namely Albania, Bosnia and Herzegovina, Croatia, Greece, Italy, Montenegro, Serbia and Slovenia. This implies expectations that their implementation through international cooperation will create positive synergies or effects at the macro-regional level, thus contributing to the economic, social and territorial cohesion of the region itself.