"REMOTE EUROPE" IS THE FUTURE OF POST-COVID TOURISM
2nd EU Macro-regional Strategies Week - Press release, 2 March 2021
The second EU Macro-Regional Strategies Week (EU IAS Week) started yesterday, organized by the European Commission, DG REGIO, which will be held online until Friday under the motto "Reconnect, Rethink , Recover". During this week, participants from as many as 29 member states of the four macro-regions will discuss cooperation on sustainable development, the economy after the pandemic, green and digital transformation of tourism, involving young people in decision-making proces, the role of civil society and ways to finance projects directly managed by the European Commission eg. HORIZON and LIFE programs.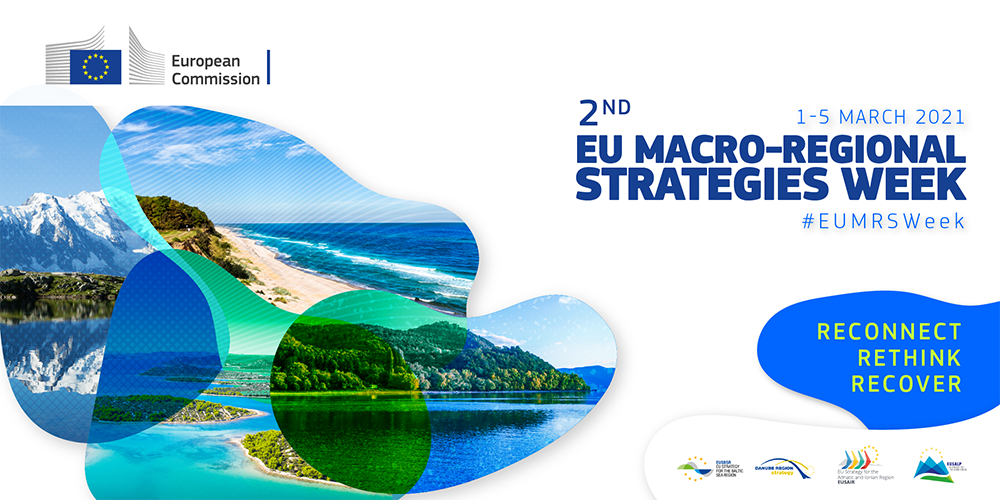 Tourism is undergoing drastic changes
"Tourism will no longer be the same as before. It is clear that there will be less mass and more individual and zero-emission tourism. We will need more digital and more green skills to enable such a transformation, which means new skills and new occupations, "said Slawomir Tokarski, Director of DG REGIO, Directorate General for Regional and Urban Policy of the European Commission in a debate entitled" Supporting macro-regional recovery strategy from COVID-19 ".
A standardized and common approach will be important for opening borders and creating the preconditions for normal movement of people and the recovery of tourism in the EU. A step in that direction is the topic of the so-called "COVID passport" and the decision whether and how this system will be introduced at all because "there is a risk of splitting the internal EU tourism market due to the individual approach". In principle, EU prime ministers voted in favor at an extraordinary summit on February 25th, but a formal binding decision has not yet been made. It is now up to the Member States to decide for themselves how they want to use COVID passports with vaccination certificates in the future. However, any normalization will require the establishment of common protocols in the field of air and cruise-ships passenger transport, which do not exclude this document.
The Ministry of Tourism and Sports of the Republic of Croatia presented all seven strategic project proposals selected so far, which arose from the priorities of the thematic group Sustainable Tourism EUSAIR Adriatic-Ionian Strategy. Their content is fully in line with the recommendations of Mr. Drakopoulos, the EC expert who conducted research on the consequences and measures needed after the COVID 19 pandemic, also it is based on demand trends published in the EUROMONITOR survey. Among these strategic project ideas, the DES AIR project is of particular importance in this European Week of Macro-Regional Strategies. The project refers to the development of education - Master's program and lifelong learning for sustainable integrated management of destinations in the region. The aim is to educate professionals with the new skills needed for the "new normal" circumstances in which travelers and users of tourism services need a sense of security as important factor in making a decision weather to travel to the certain destination.
Mass destinations are "killed" by fear, which opens a chance for small destinations
"One of our activities is to create opportunities for entrepreneurs to adapt the existing and create a new tourist offer that will be inline with the new wishes of travelers. And that is why we need to look at Europe 'with different eyes'. No longer as a mega-destination, but as a space of many micro-destinations, focused on local communities that need cultural, social, environmental and economic sustainability", Vlasta Klarić, thematic expert for tourism EUSAIR Facility Point project Adriatic-Ionian strategies pointed out.
Authenticity and individuality will be especially expressed in the creation of an offer in which the heritage and tradition of a particular region will be presented in open spaces and landscapes that have yet to be revealed to tourists. Personal distance is also a new normality in tourism and a consequence of the fear of infection, and the only cure for fear is a sense of security.
As many as 97 EU regions have defined innovation in tourism as a priority in the last seven-year EU budget, and the speed of deciding on the financing of individual projects and initiatives will be important in this period when we do not have time for excessive administration.
The host of the second EU Week of Macro-Regional Strategies EU IAS Week is DG REGIO.