Plenary session: Imagining post-COVID EUSAIR – How to cooperate in the new reality? The twin digital and green transition as a regional response to the Covid-19 crisis
The beginning of the first day of the Forum was marked by the Plenary session 1, the topic of which was the Post-Covid projection of EUSAIR - How to cooperate in the new reality? Dual digital and green transition as a regional response to the Covid-19 crisis.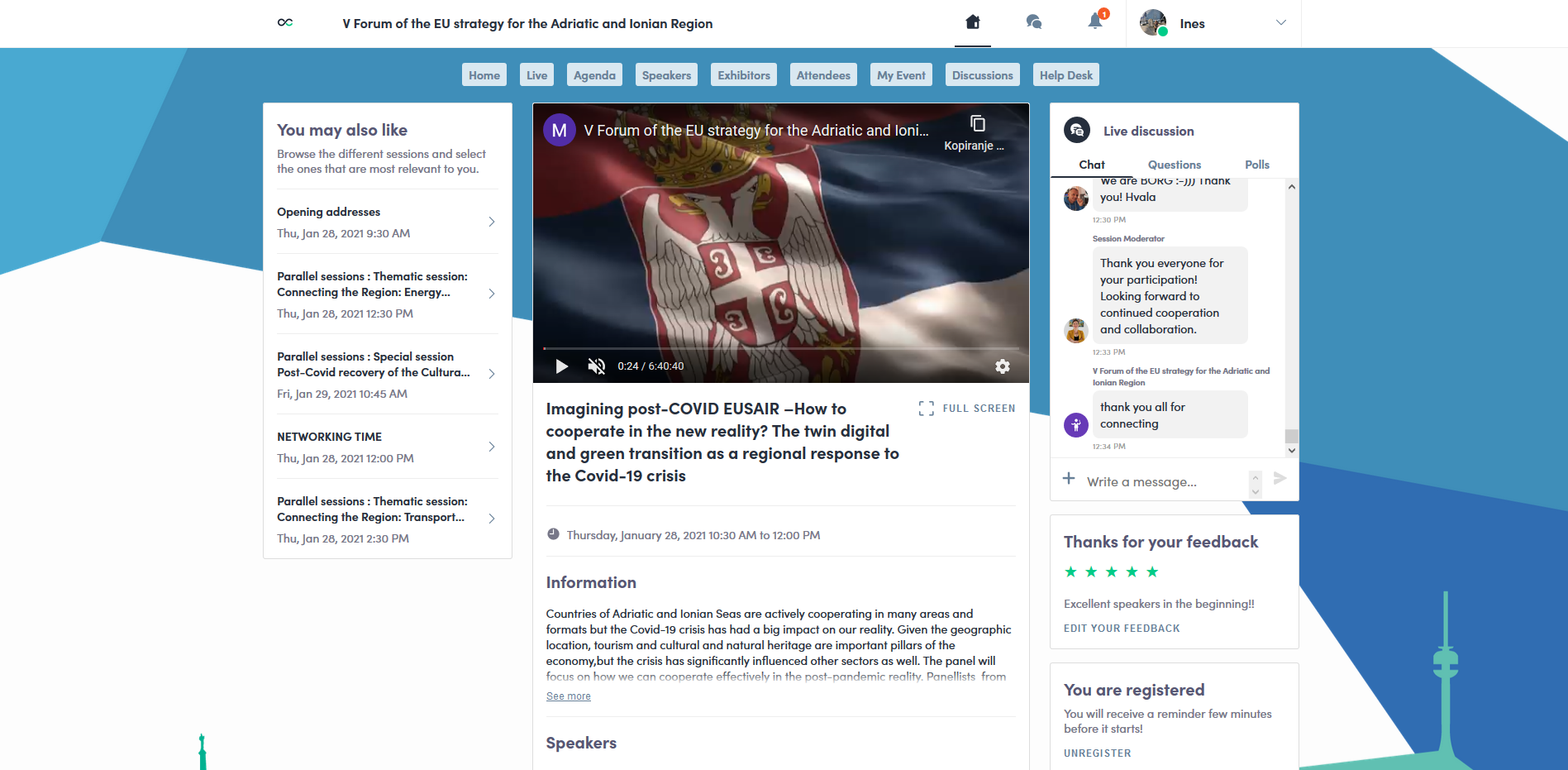 Normunds Popens, Deputy Director-General, DG Regional and Urban Policy gave an introductory speech. Mr Popens referred to the difficult times we were going through in Europe and in the world. A hope to learn from times like these and to draw positive conclusions for the future of the humanity as such was expressed. While pointing out the need to make sure that our actions and decisions respect planetary boundaries within our realm of living. The first priority in the previous year was to coordinate and efficiently respond to the pandemic crisis. Therefore all available financial resources at the EU level were mobilized to support invention and introduction of the vaccines. Also, a very large amount of funds through the Coronavirus Response Investment Initiative was directed to support different parts of our societies, small and medium enterprises, health sector and others. Mr Popens concluded that we have to emerge from this crisis together and stronger, not just by solving contingences from the past but also investing in the future using all instruments at our disposal.
The keynote speaker Florence Gaub, Deputy Director, EU Institute for Security Studies is the lead author of the ESPAS report Global Trends to 2030: Challenges and Choices for Europe. Her perspective of the crisis is seen as an opportunity, despite the hardships it caused. In the time of crisis people namely switched to different mode of doing their regular chores. Meaning, Covid-19 crisis only accelerated some trends, one of which was the digital one. Ms Gaub explained that digital transformation of the business sector had been accelerated for seven years due to the crisis. We were given a push forward to the economy of the future - digital sector.
Mathew King, Acting Director, Directorate I – Competence, Joint Research Centre, European Commission spoke about strengthening resilience and achieving the strategic long-term objectives of the digital, green and fair transitions. According to his words, Covid-19 pulled back the curtain, behind which we are hiding our vulnerabilities that have to be overcome for a longer period. The issues that raised to the surface do not have the short term nature, we would like to think. But are pushing us to develop resilience of EU as we wish it to be. In this regard four main themes are to be looked at: social and economic resilience, resilient green transitions, making digital transition resilient and to achieve political aspects of what resilience really means. He referred to the previous speaker on the topic of foresight, which could help us to anticipate problems and create sort of a momentum for change of policy actions needed at the European level.
Ellie Schlein, Vice President, Emilia Romagna Region in Italy spoke about specific opportunities and challenges in the Adriatic-Ionian macro-region in the context of the green, digital and just transitions. Pandemic itself challenged the idea of borders, it showed how fragile we were as EU and alert us of the need for more cooperation to get out of this crisis and to rebuild our common future. Digital transformation and ecological transition are the keys to build this better future. Nevertheless in this process we must pay attention also to the issue of collision. Most importantly, territorial cooperation in the Adriatic – Ionian region must be seen as an instrument for sustainable territorial development.
Sandra di Biaggio, ESPON European Grouping on Territorial Cooperation further on tackled the territorial development dynamics in the Adriatic and Ionian Region.
Soukeyna Gueye, Research Analyst in Ellen MacArthur Foundation presented their findings on circular economy as an advised transformative Covid-19 recovery strategy. Circular economy is delivering mechanism for achieving key and mutually reinforcing objectives, offering an economic opportunity, reducing resource dependence, provide help in tackling key challenges like climate change, creating new jobs, stimulating innovation and increasing resilience.
Sinisa Marčić, Expert on Human Capital Development, Regional Cooperation Council talked about regional capacities for innovation, explaining what it takes to form a strong innovative community. One of the key regional mechanisms, was the Action plan, called Common regional market, endorsed by the Western Balkan leaders in Sofia Summit in November 2020. The key idea behind the plan is to assist economies in the region to develop in certain fields: digital transformation, skills development, green circular economy and innovation. The main goal being to design a favorable market for investments and overall development and for the first time innovation was identified as proper tool for sustainable economical development.
Wim De Kinderen, Vice-Chair of the European Network of Living Labs gave a significant role to citizens' participation and showcased how living labs can help create better solutions and policy responses to existing challenges.
At the end of this session Gino Sabatini, President of the Forum of the Adriatic and Ionian Chambers of Commerce, President of Marche Chamber of Commerce provided a business perspective of post-Covid-19 economic recovery and resilience. Close cooperation of economy and business sector with policy makers is emphasized in order for them to be able to take on similar activities, build on a regular dialog and together create strategies to pullout of the crisis.
In conclusion, it is very important to have resilience strategies working in line at all levels (from EU to national, regional and local level as well as from policy to economy sector) to cope with digital and green transition as well as with post-pandemic effects. Events like EUSAIR Forum, are important as they bring together to the same table all partners to discuss their strategies and goals, to collaborate and develop joint plans and use existing regional collaboration mechanisms to resolve common problems.