Highlights of second day of the EUSAIR gathering In Budva– OPENING OF THE 4th EUSAIR FORUM
Pillar III and B2B Sessions
The 4th Annual EUSAIR Forum officially kicked off today, with a promising start encapsulated by two parallel events that took place before the official opening. On the one hand there was the panel discussion on Environmental Quality, EUSAIR's Pillar III, which had an incredibly high-level intense agenda involving a wide variety of stakeholders as well as professional speakers focused on conceptual and practical aspects of Marine Spatial Planning. On the other, a business to business session took place in order to facilitate meetings and exchange between small and medium enterprises, universities, chambers of commerce, and other stakeholders in the macro-region with the objective to find potential project partners or ultimately explore new business opportunities. More than 100 participants from 14 countries were searching for new business opportunities and partners.
Official opening
The Montenegrin Prime Minister, Duško Marković, officially opened the EUSAIR Forum with a passionate and well-balanced speech in which he highlighted that Montenegro's "own development confirms European values in the best possible way", both as a responsible, reliable neighbor and a regional actor, that "in the future will become a member of the European Union". Testament to these words is the brilliant and impeccable organization of the event, which is hosting over 550 guests and more than 50 speakers. By the same token, EU representatives at all levels warmly acknowledged Montenegro's successful efforts. From the video messages of Corina Creţu, Commissioner for Regional Policy, and Karmenu Vella, Commissioner for Maritime Affairs and Fisheries, to the words of Rudolf Niessler, Director for Smart and Sustainable Growth and Programme Implementation, of the General Directorate REGIO, every European official expressed appreciation for the vibrant debate and, more crucially, for the attention paid to grassroots projects and the whole stakeholder spectrum.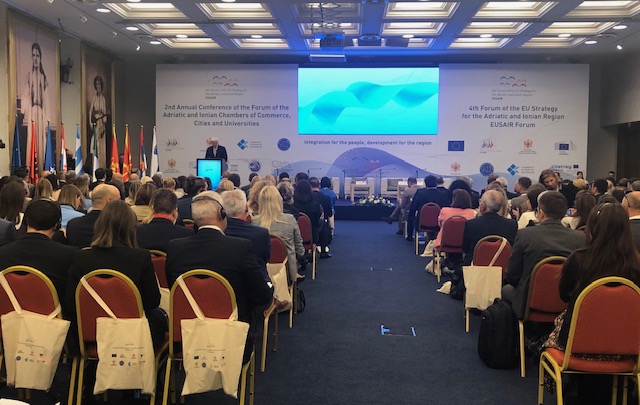 Pillar II Sessions
After the institutional opening, EUSAIR Forum's work continued with great intensity. Particular attention was paid to preserving the environment not only as a good action per se, but also as an opportunity for blue and green growth, as well as smart specialization, which brings economic opportunities. Ultimately the core goal of EUSAIR activities is further integration and cooperation within the Adriatic Ionian macro/region, and regional policies are fundamental to advancing the EU vision and, as several speakers remarked, increase cross-border infrastructure and alignment of the existing infrastructure, for example in terms of safety.
An interesting proposal that originated from the discussion is that the EUSAIR initiative should invest into young people if it intends to be truly sustainable, much along the lines of the workshop with young journalists that EUSAIR Facility Point hosted the day before the Forum (May 6th). As one speaker put it, along the so-called Erasmus generation "there will be the macro-region generation".
Upon these premises, the Pillar Sessions that rolled out until late into the evening, with the file rouge of translating sustainability into reality having in mind not only the environment, but also culture and lifestyle as crucial features for a successful sustainability. Question raised by moderator to the prominent speakers at the second plenary session on Tackling seasonality in the AI region through development of sustainable and high-quality tourism products to highlight main success factors to reach the goal of sustainable tourism offered the answers: "Proper investments in infrastructure!" "Work together!", "Education!", and "Respect to people, Nature and Guests!".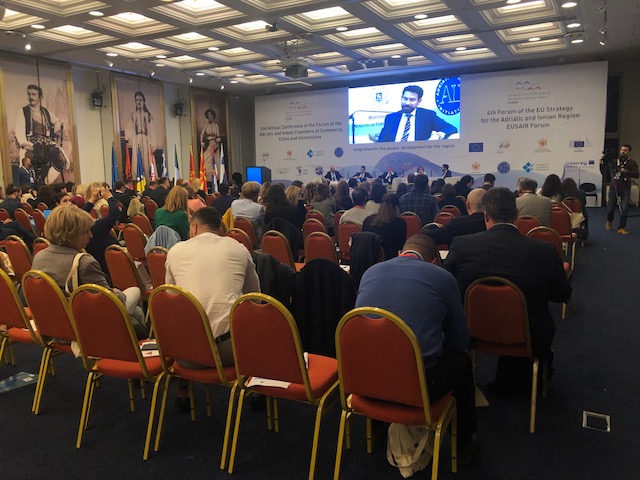 WELCOME Project visit
In order to give a tangible example of how EUSAIR regional cooperation could have a positive outcome, the organizers offered the possibility to see first-hand how a trilateral initiative on waste collection works in practicality. A joint effort by Montenegro, Albania and Italy, the project is called WELCOME, which stands for "WatEr LandsCapes sustainability through the reuse Of Marine littEr". Its goal is to reuse wood found on beaches in order to form anti-erosion coastal systems through a sustainable approach that includes the possibility of monitoring several coastal areas on both sides of the Adriatic coast, wood waste collection, categorization and finally reuse. By its very existence the WELCOME project shows that EUSAIR's four pillars are taken into account, given that it safeguards biodiversity (blue growth), it further enhances regional cooperation by managing marine litter (connecting the region and environmental quality), and it ultimately contributes to raise public awareness on a sensitive problem (sustainable tourism).