2nd meeting of the EUSAIR Governing Board
High-level officials of the eight countries participating in the EU macro-regional strategy for the Adriatic and Ionian Region (EUSAIR) gathered together in Zagreb (Croatia) on 7 October 2015 to discuss the best ways to promote economic and social cohesion, as well as integration, through strengthened cooperation. Main objective was to assess the state of play of implementation of the Strategy after the first two rounds of Thematic Steering Groups (TSGs) meetings of the four thematic pillars, held during the first semester of 2015.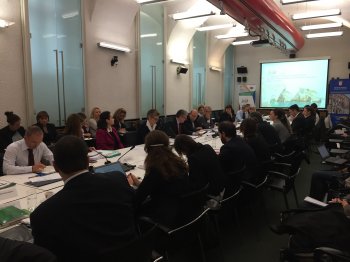 The meeting was co-chaired by the European Commission and the host country, Croatia, in its capacity of chairman pro tempore of the Adriatic and Ionian Initiative, with the participation of representatives of the European Parliament, the Committee of the Regions, the European Economic and Social Committee, as well as from the Permanent Secretariat of the Adriatic-Ionian Initiative, the Managing Authority of the Interreg ADRION programme and the authority responsible for the EUSAIR Facility Point under that programme.
The participants welcomed the quick set up of the four Thematic Steering Groups, as stable cooperation platforms to identify actions and projects of macro-regional importance, also acknowledging the need to improve its functioning (including in terms of attendance and active involvement of its members). A Stakeholder Platform for the (on-line and off-line) consultation and involvement of the civil society at large in the Strategy will be established. Progress was made in the definition of the terms for the thematic and operational support to the Strategy to be provided by the Interreg ADRION Programme and the EUSAIR Facility Point coordinated by Slovenian authorities. The 1st EUSAIR Forum, conceived as key event to gather all interested stakeholders to discuss challenges ahead, will take place in Croatia in May 2016 (exact date and venue will be confirmed soon).